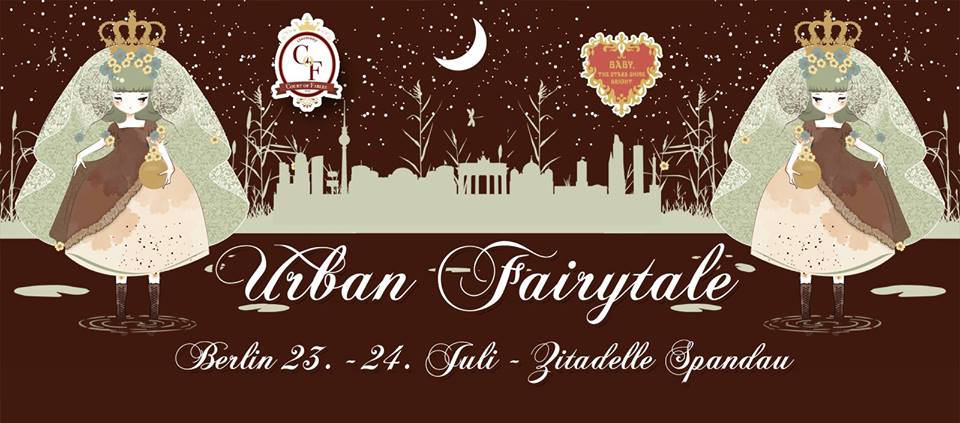 Wir freuen uns auf "BABY, THE STARS SHINE BRIGHT", die mit 3 wunderbaren Vertretern an beiden Tagen zu Gast sein werden! Wir erwarten den CEO von BTSSB Akinori Isobe, Model-Designerin Masumi Kano, und Model und Hauptgeschäftleiterin Rin!
Mehr Informationen
♡ ♡ ♡ Programm ♡ ♡ ♡
♡ Samstag 23.07.16 | Urban Fairytea ♡
13.00(VIP)/14:00(GA)-18:00
Am Samstag erwartet euch eine Tea Party im eigentlichen Sinne. Ihr nehmt an runden Tischen im Gothischen Saal der Zitadelle Spandau Platz und könnt euch an einer Modenschau, köstlichem Essen und erfrischenden Getränken erfreuen. Außerdem erwartet euch ein Q&A mit BABY, eine Tombola und einige Shopping-Stände. Selbstverständlich könnt ihr die Räumlichkeiten auch für schöne Fotos mit unseren Fotografen erkunden.
♡ Sonntag 24.07.16 | Urban Fairyland ♡
13.00(VIP)/14:00(GA)-18:00
Das Main Event bietet euch verschiedene Modenschauen, ein Bühnenprogramm mit z.B. einem kleinen Quiz und ein Outfitwettbewerb.
Zusätzlichen gibt es einen großen Shoppingbereich mit Ständen unserer Brands und Indie Brands sowie einen großen Bring & Buy Bereich. Lasst euch von der Location in den Italienischen Höfen mit ihren verschiedenen Fotoecken und Fotografen, die für euch bereitstehen, verzaubern und genießt einen märchenhaften Aufenthalt im Berliner Urban Fairyland.
Wir werden in den nächsten Wochen einen genauen Zeitplan hochladen, der euch verrät wann was um welche Uhrzeit stattfindet und ebenso viele zusätzliche Programmpunkte beinhaltet.
Wir werden euch natürlich über die nächsten Wochen und Monate mit weiteren Informationen versorgen und hoffen euer Interesse geweckt zu haben, zusammen mit uns ein wunderschönes und spaßiges Lolitawochenende in Berlin verbringen. Also bleibt gespannt!
♡ ♡ ♡ ♡ ♡ ♡ ♡ ♡ ♡ ♡ ♡ ♡ ♡ ♡ ♡ ♡ ♡ ♡ ♡
♡ ♡ ♡ ♡ ♡ ENGLISH VERSION ♡ ♡ ♡ ♡ ♡ ♡
♡ ♡ ♡ ♡ ♡ ♡ ♡ ♡ ♡ ♡ ♡ ♡ ♡ ♡ ♡ ♡ ♡ ♡ ♡
Court of Fables and Ribbon City are inviting you to our first big event, on the 23th-24st of July, in the wonderful city of Berlin, Germany!
We are beyond excited to welcome our amazing guest "BABY, THE STARS SHINE BRIGHT" and their three wonderful representatives to our event! BTSSB CEO Akinori Isobe, along with Model-Designer Masumi Kano and Model-Flagship store Manager Rin will all be present at the event!
More information can be found here: http://ribbon-city.blogspot.de/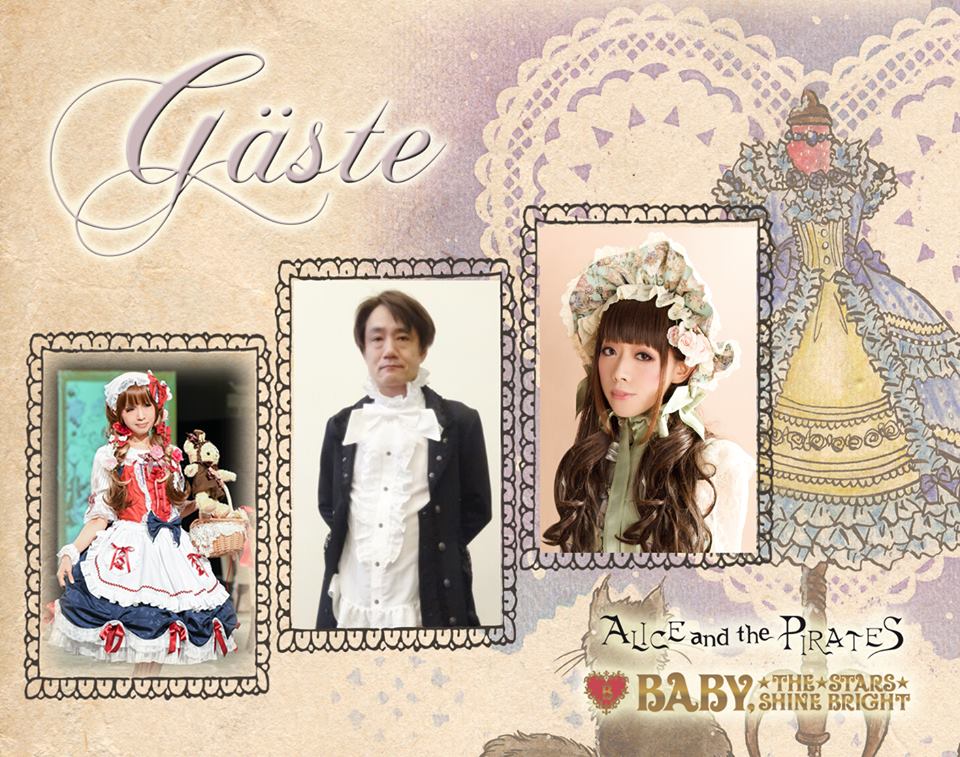 ***************
Akinori Isobe
CEO von BABY, THE STARS SHINE BRIGHT
***************
Masumi Kano
Designerin von BABY, THE STARS SHINE BRIGHT
Sie studierte Design und Schnittmuster während des Studiums und nach dem Abschluss kam sie in die Firma. Schon in ihrem ersten Jahr wurde sie zur Designerin der BTSSB. In der niedlichen Welt, die BTSSB kreiert, ist sie für die Kleider mit klassisch eleganter, püppchenartiger Ausstrahlung zuständig, welche nicht zu sweet sind.
Sie nahm an vielen Conventions und Fashion Shows teil, unter anderem in Paris Japan Expo, vereinigten Staaten, Kanada, China, Schweden.
***************
Rin
Managerin vom Hauptgeschäft und gleichzeitig das Fashion Show-Model von
BABY, THE STARS SHINE BRIGHT
Sie ist die Leiterin vom BTSSB-Hauptgeschäft und arbeitet ebenso als Model bei den Fashion Shows der BTSSB in Japan und in anderen Ländern wie die vereinigten Staaten, Kanada oder China.
Sie ist auch das Model der beliebten "Rin-chan"-Serie, sie ist das repräsentative Staff-Model von BTSSB.
***************
♡ ♡ ♡ ♡ ♡ ♡ ♡ ♡ ♡ ♡ ♡ ♡ ♡ ♡ ♡ ♡ ♡ ♡ ♡ ♡ ♡ ♡ ♡ ♡ ♡ ♡ ♡ ♡ ♡ ♡
english
***************
Akinari Isobe
CEO of BABY, THE STARS SHINE BRIGHT
***************
Masumi Kano
Designer of BABY, THE STARS SHINE BRIGHT
Masumi Kano was a student of design and dressmaking and came to BTSSB after receiving her diploma. After only a year, she was already the foremost designer for the compay. Her foremost responsibility in BTSSB's elegant world, is to design dresses that are elegant and doll-like, but not overly sweet.
She has also been active in promoting the brand overseas in conventions and fashion shows, including the Japan Expo in Paris, and many events in the United States of America, Canada, China, and Sweden.
***************
Rin
Manager of the BABY, THE STARS SHINE BRIGHT Flagship Store and Fashion Show Model.
Rin is the manager of BTSSB's flagship store and works as a model during Baby's fashion shows in Japan and other countries. She has walked in the USA, Canada and China. She is also the model for the popular "Rin-chan" series and is the representative Staff-Model of BTSSB.
Das Formular für den Ticketverkauf findet Ihr/ Tickets can be found  HIER/here