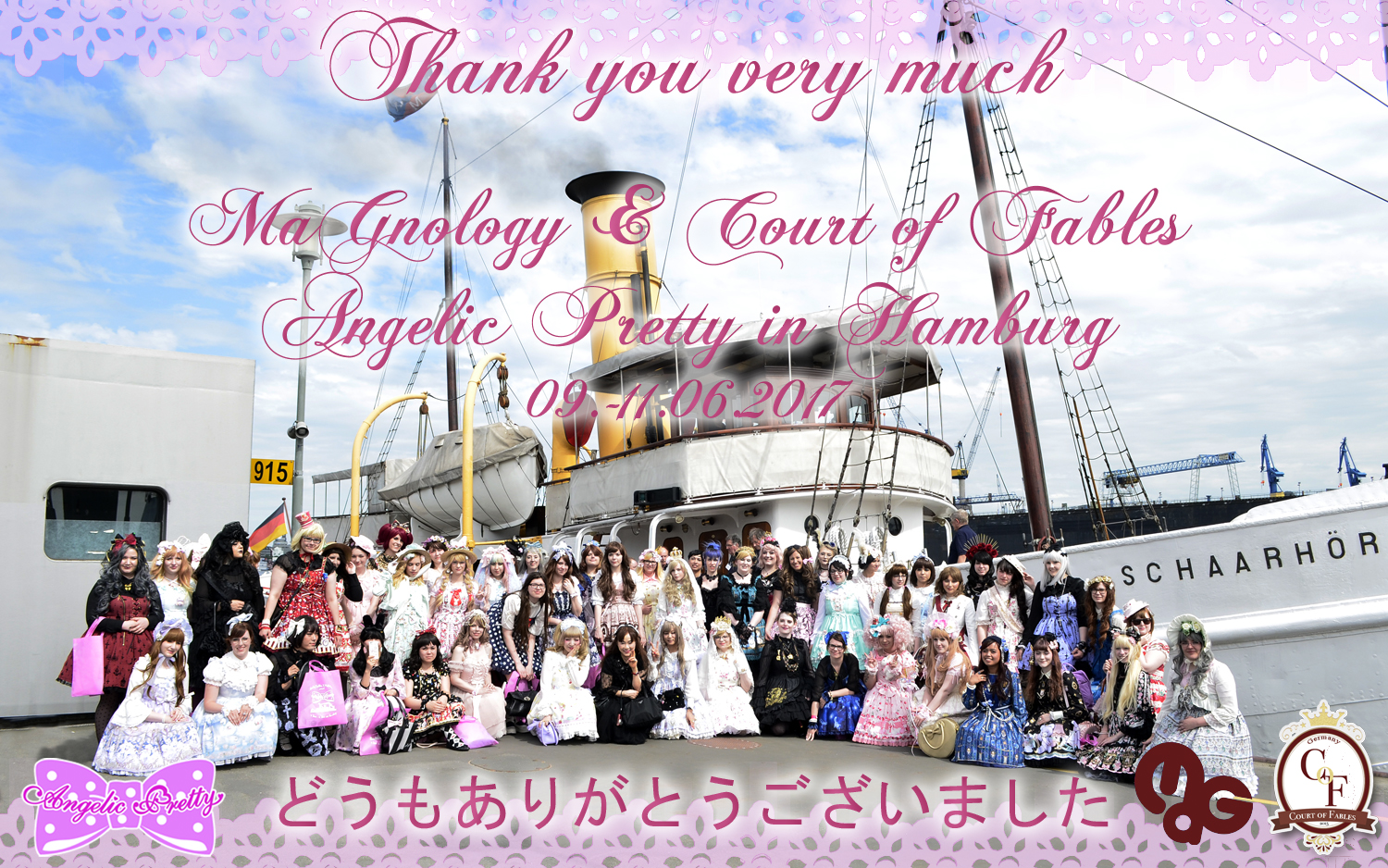 Im Sommer 20017 veranstalteten wir von Court of Fables in Zusammenarbeit mit der Convention Magnology in Hamburg ein Event für Games, Manga und J-Fashion.
Dem Thema Lolita-Fashion wurde auf der Veranstaltung ein eigener Bereich gewidmet. Neben diesem wurde den rüschenliebenden Besuchern ein separater Rückzugsort präsentiert: Das Court of Fables Zelt.
Der Eintritt war nur Denen, die ein entsprechendes Ticket gekauft hatten, vorbehalten. Neben einem exklusiven Programm, diente das Zelt auch als Wohlfühloase für die Lolitas, die nach einer ausgiebigen Shoppingtour bei Angelic Pretty, dem Harajuku Closet, sowie zahlreichen Indie Brands, einfach mal eine Pause einlegen wollten. Hier wurden auch kleine Snacks und Getränke für die Besucher des Zeltes bereitgestellt.
Die Liebe Tina von AnimePro hat uns alle 3 Tage begleitet und am Ende einen schönen Beitrag über das Event und das umfassende Modeprogramm in unserem Zelt geschrieben.
"Zum dritten Mal findet die Manga- und Anime-Convention MaGnology in Hamburg statt und von Jahr zu Jahr wird sie immer größer. Dieses Jahr glänzte sie mit einer zusätzlichen Veranstaltung des Berliner Lolita-Vereins Court of Fables, der sich in einem eigenen Zelt mit einem vollen Drei-Tage-Programm um die anwesenden Lolitas kümmerte und für unterschiedliche Überraschungen sorgte. Wir durften für euch dieses Wochenende exklusiv dabei sein, um euch das glamouröse Leben einer Lolita vorzustellen.
Die MaGnology selbst ist die erste Games- und Manga-Convention in Hamburg und fand dieses Jahr im Juni für drei Tage im Cruise Center der Hamburger HafenCity statt. Auf über 8.000 m² hatte man hier die Möglichkeit, sich um die unterschiedlichsten Verkaufsstände für Fashion, Accessoires, Bücher, Spiele und vielem mehr zu tummeln. Aber nicht nur das: Mehrere große Zelte waren aufgebaut, in denen man an Workshops wie zum Beispiel zur Kampfkunst, Trommeln und Zeichnen teilnehmen konnte.
Man hatte sogar die Möglichkeit Lasertag zu spielen oder es sich im großen Bühnenzelt gemütlich zu machen, um dort den Fashionshows, Cosplay-Wettbewerb oder anderen Liveshows zuzusehen. Mehrere Games Corner waren aufgebaut, damit sich auch konsolenbegeisterte Besucher wohlfühlten. Da das Wetter an diesem Wochenende überwiegend schön war, hatten die Besucher die Gelegenheit, sich an einen der Food Trucks bei unter anderem Sushiburritos oder bei dem Cateringzelt bei Onigiris, Japanischen Crêpes oder Takoyaki zu stärken. Dies ließen sich auch dieses Wochenende über 5.000 Besucher nicht nehmen!"
Den kompletten Bericht und Fotos zum Event findet Ihr hier:
https://www.animepro.de/action/conventions/10095_magnology-und-court-of-fables-2017-in-hamburg-special
Wir danken Tina sehr für den anschaulichen Beitrag und ihre Unterstützung während des Events.